About Our Bequest
Management Practice
Chisholm Chisholm & Kilpatrick LTD has a dedicated team of attorneys and professionals focused entirely on Bequest Management. Our team understands the importance of planned giving to non-profits and charities and is dedicated to fulfilling the wishes of your donors while maximizing your gifts and minimizing administrative costs and burdens.
We Work as a Team to Advance Your Work
Established in June 2017, CCK's Bequest Management practice is dedicated to fulfilling the wishes of charitable donors while maximizing gifts and minimizing administrative costs and burdens for non-profit organizations and charities nationwide.  CCK is committed to delivering high-quality service on behalf of the charities and non-profit organizations we serve.
CCK's Bequest Management group works to ensure prompt and full distribution of intended testamentary gifts to charities and non-profit organizations while also respecting and following the intentions of donors.
Our Bequest Team
J. Scott Kilpatrick
Scott is a Founding Partner of CCK.  He is a seasoned trial attorney and his practice focuses on civil litigation, including insurance disputes and general litigation.   Scott has successfully litigated hundreds of complex and high stakes damages cases.  His diverse experience base serves as an advantage for the firm's clients in a broad range of matters, including insurance, business, and disputes over wills, trusts and other instruments.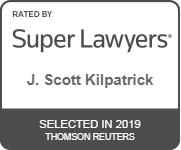 Contact Scott
Read Full Bio
Cathy A. Derrig
Cathy has been with the firm for 36 years. She is currently CCK's Office Manager and oversees the administration and systems for the firm's Bequest Management practice for Nonprofits and Charities.
Cathy received her Paralegal certification from Bentley University in 1991. In 2014, Cathy became a licensed VA Practitioner. As the Office Manager, Cathy oversees the operation of almost every non-legal aspect of the firm. She is involved on a daily basis in the management of caseload, and often brings her experience and expertise to bear on behalf of our clients' cases.
Contact Cathy
Read Full Bio
Alicia L. Hoffman
Alicia joined CCK in April of 2017. She is part of the Bequest Management practice group.
After graduating from Bryant University in 2010 with a B.S. in Business Administration, Alicia earned her J.D. from Roger Williams School of Law, cum laude, in 2013. During law school, she received the Dean's Achievement Award and was a member of the Honors Program. Prior to joining CCK, Alicia was an Associate Attorney at another firm where she specialized in estate planning, elder law, estate taxation, and trust and estate administration.
Contact Alicia
Read Full Bio